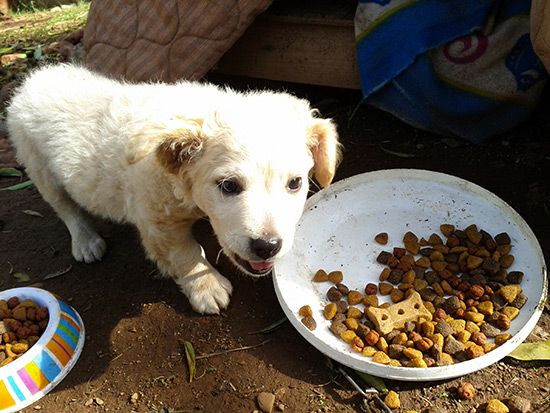 For Thanksgiving, I went up to the north state to visit my girlfriend's parents. At her dad's new house (still under construction), I saw a tiny puppy no more than a few weeks old tied to a tree with a thick chain. It was next to a dirty tent consisting of a few wood beams and some rags.
After some questioning, I discovered that a neighbor had abandoned the puppy. (Horrible!) They were moving to a smaller apartment that didn't allow pets and wanted my girlfriend's dad to hold the puppy until they figured out what to do. They never returned for the puppy.
The puppy was dirty due to being outdoors, but still cute. I fed it some dog food but it was too hard for baby teeth. So I soaked the food in water.
The animal shelter in Anderson was closed for the holiday. We were going to try to find an owner for the dog on Facebook and Craigslist but didn't have much luck.
[UPDATED: A few weeks later, my girlfriend went home and noticed that the dog's original owners still had not returned for it. What a bunch of irresponsible people. The dog looked sad from being isolated and cold for so long. My girlfriend took the dog home and washed it. Then, she drove back to the Bay Area visiting animal shelters until she found one that was willing to take it. She ended up dropping off the dog at a shelter in Vacaville. The dog is cute and I'm sure it will be adopted very quickly.]
More pictures after the jump.