My trip to Korea is coming to an end. It has been an amazing journey and I've learned a lot about doing business the Korean way. Everybody has been incredibly nice and hospitable and I cannot wait to return. However, I certainly want to learn to speak Korean before my next visit.
Before I sign off, I'd like to post the remainder of my fun photos. Enjoy!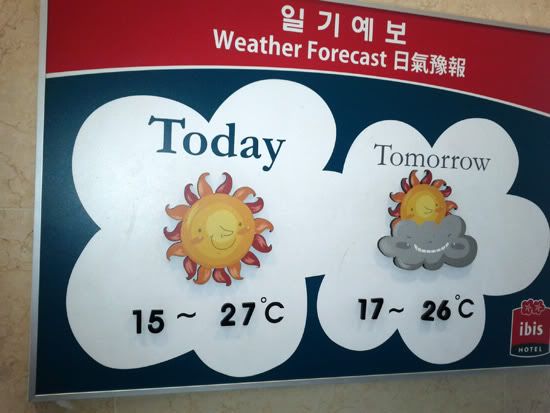 At the Ibis Myeongdong, the hotel staff meticulously arrange these weather boards every night to let residents know what the weather will be like tomorrow. This is not a digital screen. As is the Korean way, the sun and cloud stickers (magnets?) are incredibly cute.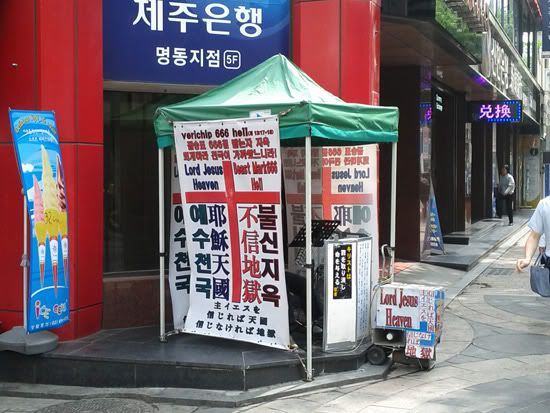 Myeongdong is littered with these 'end-times' booths, each of which come with an older woman singing hymns. I knew some of these hymns too! The signs proclaim: "Lord Jesus Heaven, No Jesus Hell." However, I noticed that a lot of the signs stated "Verichip 666 Hell" and decided to do some research.
The Verichip is a small microchip that's implanted under the skin so that doctors can quickly figure out what's wrong with you. It alerts doctors to allergies and any medical conditions you may have so that he or she doesn't accidentally give you any medications that might kill you.
Apparently, some of the fringe churches in Korea believe this is the 'Mark of the Beast,' which the Book of Revelation describes as a means to conduct transactions in the last days. They drummed up so much hysteria that a coalition of churches in Korea actually released a statement assuring the people that the Verichip is not the mark and to stop worrying. Of course, that hasn't stopped these fringe Christian booth ladies from crying foul.
One of the nice things about Korean subways is that there are giant monitors that let you track the location of the incoming train. You can see in the picture above, each of the red rectangles (i.e. 2371, 2365) represents a train. The green nubs on the ground are stations.
The subways will also play special chimes to let blind people know that a train is approaching. Different chimes are played on different sides of the station to prevent confusion.
Speaking of the subway, there are ads for plastic surgery everywhere. In Korea, women consider small faces to be beautiful. So they undergo painful jaw surgery to shave down their faces. Nose jobs and eyelid surgery are also very common. However, jaw surgery remains the most popular surgery at the moment. Ouch!
I remember undergoing jaw surgery (for medical reasons) and losing 25 pounds during the recovery period. Basically, your jaw is wired shut for a month and you have to live on a liquid diet. I suppose for Korean patients who undergo this painful procedure for beauty, it has the added benefit of helping them lose weight.
However, in Korea it's not cool to talk about your surgery. Everyone pretends they never had any surgery and their big eyes and small faces were bestowed by nature. The ideal situation is to get surgery but have everybody else thing you are all-natural.
At dinner, I asked one of the Korean guys who is considered the most attractive girl in Korea at the moment. They gave me a name. "Did she have surgery," I asked.
"No, no. She is all natural."
I looked her up on Google. She most definitely had surgery.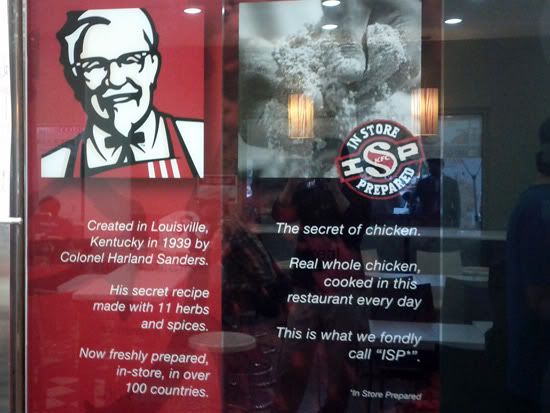 The Korean KFCs are all about 'ISP,' which stands for In Store Prepared. I don't think I've seen any ISP-branding in the U.S.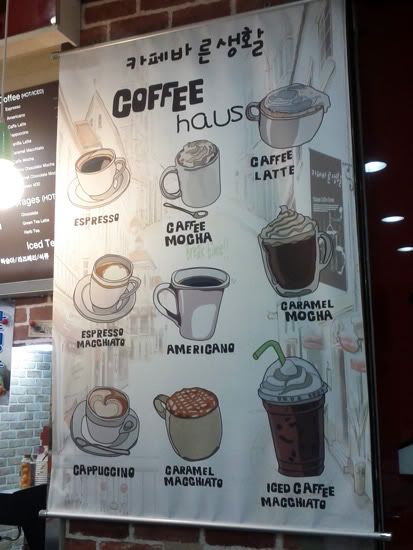 Here's a really cute coffee menu from Coffee Haus. This picture was taken outside the baseball stadium.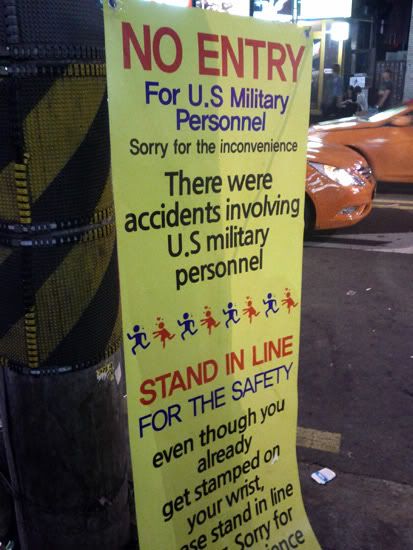 One night, we went clubbing at the Hongdae area. It's a wacky college town littered with eccentric cafes and bars. While standing in line for one of the cheaper clubs, the security guard pulled us out and told us: "no foreigners allowed!"
My coworker remarked, "Now I know how Dr. Martin Luther King Jr. felt."
Apparently, foreigners tend to cause a lot of trouble in clubs by being rowdy and aggressive. Korean men are allegedly better behaved. Not wanting to cause trouble, we decided to seek out some of the more 'foreigner-friendly' clubs. We ended up at a dingy club called Mamas, which was small and dirty, but open to foreigners (so long as you weren't a soldier."
"How would they know if you're a soldier," we asked.
"Your haircut."
In any case, I took a picture of the sign above to remember this incident. But on a lighter note, I found the running male and female silhouettes on the sign hilarious. The females are the ones who are really aggressive, it seems.