N Seoul Tower, also known as Namsan Tower, is a communication and observation tower located in central Seoul. It's also a cultural icon for Seoul in the way that Tokyo Tower represents Tokyo and the Statue of Liberty represents New York City. You can see Namsan tower from the smoking deck in my office.
When I was preparing to come to Korea, my girlfriend told me that couples like to visit Namsan Tower to put padlocks on fences. At first, I thought the idea was kind of silly. Padlocks? But then, I looked into the details and realized it's actually an ingenious marketing campaign to boost tourism in Korea and give locals the opportunity get a bird's eye view of the city and have pride in their home.
Last night, I went clubbing at Club Octagon until 5:00a, fueled by energy drinks and coffee. I woke up at 11:00a with no hangover (thankfully) and joined my colleagues on a nice stroll through the city. We ended up at Gyeongbok Palace, a Chinese-style palace.
Later, we walked all the way back to Myeongdong and ultimately decided to visit the Namsan Tower.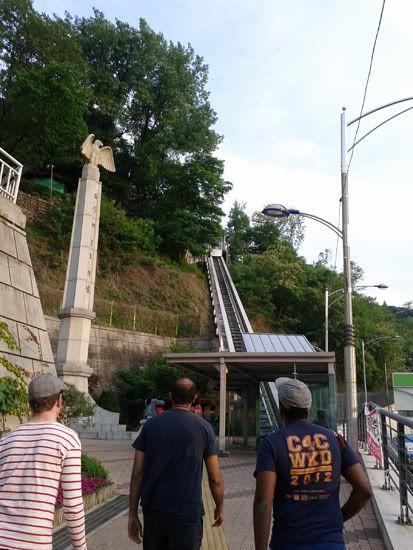 The tower is actually only a few blocks south of the Ibis hotel in Myeongdong. However, reaching the tower is a multi-step process. First, you ride an elevator from the sidewalk to a parking lot. (An escalator would be more convenient.) From there, you have to climb several sets of stairs to buy tram tickets. The tram takes you to a deck surrounded by romantic French and Italian restaurants where you have to climb a steep set of stairs. Afterwards, there are more stairs and more tickets to buy to reach the observation deck. Koreans have truly mastered the art of 'free to play' and 'microtransactions.'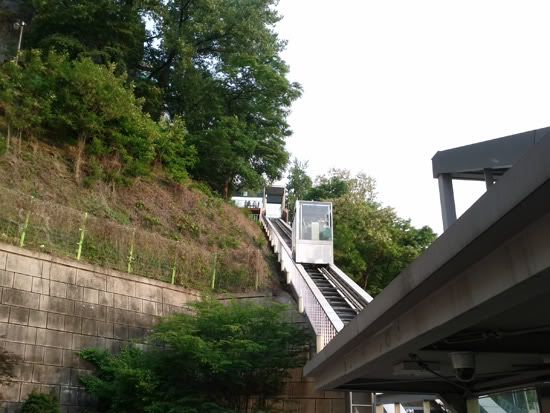 Here's the elevator to the parking lot. The other option was to walk up the hill. However, our feet were tired from exploring Seoul on foot.
I bought a lock. It was expensive due to people's high WTP. However, you can't put a price on love.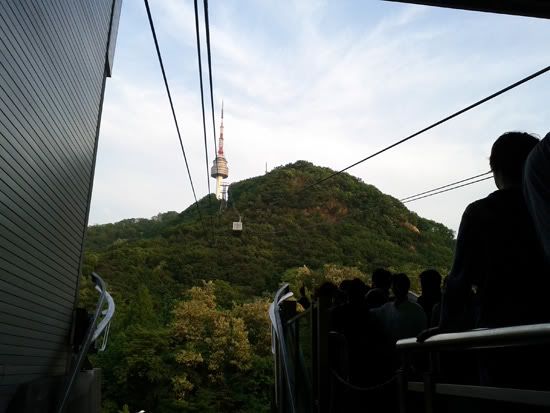 Here's the tram from the lot to the tower. The lines were very long. You can also see Namsan Tower in the distance. At night, the tower lights up.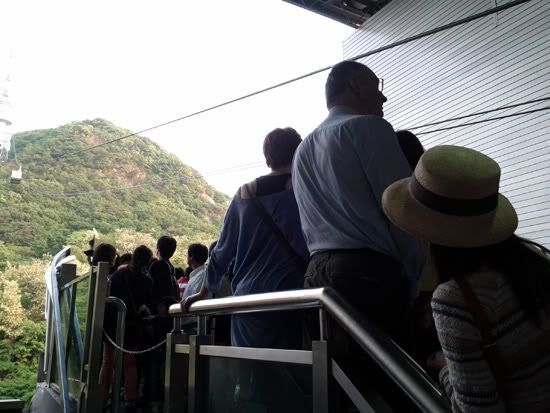 Here's another picture of the crowd. The tram fits a lot of people and moves very fast. However, there are only two trams servicing thousands of tourists.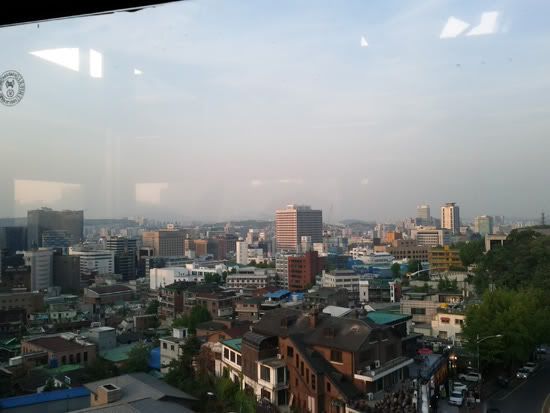 Here's a view of Seoul from the tram. I was lucky enough to be smooshed against the window.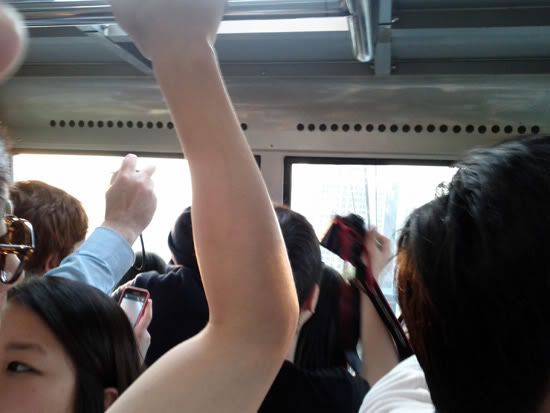 As you can see, the tram was very crowded.
Once we got off the tram, we had to climb more stairs. Our legs were killing us. Our feet were about to fall off. However, we were determined to make it to the top before the sunset.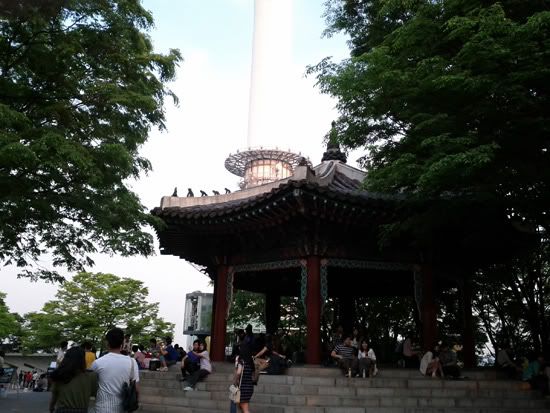 There was a neat pavilion we passed by. As you can see in the picture, a lot of couples visit Namsan Tower.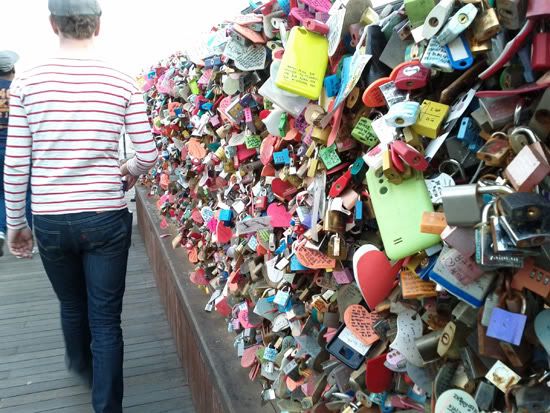 This photo gives you an idea of just how many locks are in Namsan Tower. I estimate there are over 100,000 locks. Some of them were quite old and rusted. It's good to know the custodians don't periodically remove the locks.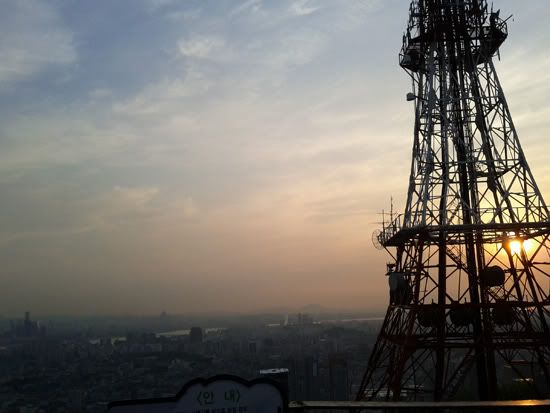 Here's a view of the city.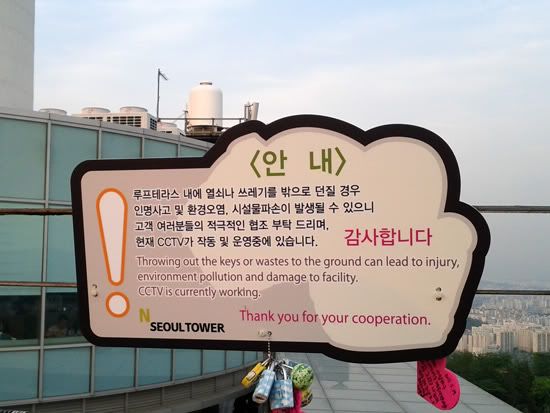 This sign tells people not to throw the keys off the deck and even goes so far as to mention the use of security cameras. There are special trash bins set up for people to toss their keys away.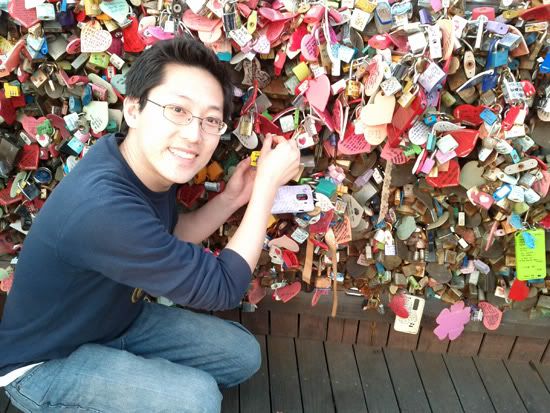 Here's me looking for an empty spot to place my lock. There weren't any empty spots. However, I noticed that may new locks were placed on old locks, creating unbreakable chains of locks.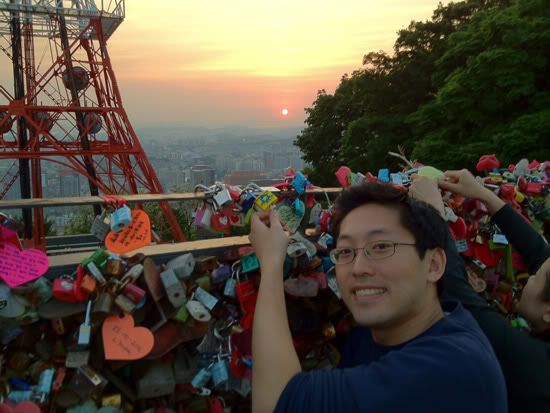 Here, I am hanging the lock. Thanks to Jens for taking this picture with his HDR-enabled iPhone 4S.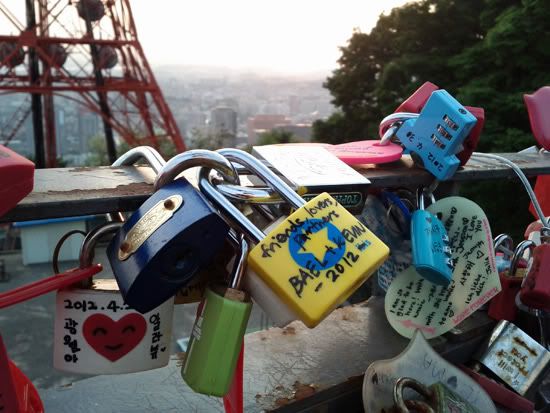 I ultimately placed my lock in front of the radio tower. If I ever come back to this lock, I will be able to see the sunset.
Here's another shot of my lock.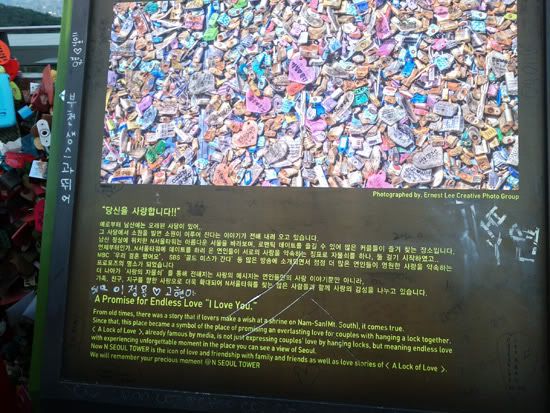 There's a display that explains the story of the locks. Damn, I should have invested my money in the lock industry. Can we set up one of these at the vista point in Tilden Park?
Here's a far shot of the deck. There are locks everywhere! My yellow lock is not in this picture. But if you were to stand in my place and turn 90 degrees to the right, you'd see it. If I ever come back to Seoul, it'd be cool to try and hunt down my lock.