After a long day at work, I went with some friends to the Jamsil Baseball Stadium to watch the Doosan Bears play against the Kia Tigers. The stadium was roughly a 20 minute subway ride from Myeongdong.
At the game, I couldn't help but feel out of place. Baseball in Korea is technically the same as baseball in America. There are 9 innings, 4 balls, and 3 strikes. However, there are some cultural differences that make it feel completely foreign.
Here are my quick observations about professional baseball in Korea:
First of all, there are no peanuts or popcorn. Everyone drinks beer and eats chicken. I walked by no less then 3 KFCs between the subway exit and my seat in the stadium.
Also, the mascots are all cute. I guess in Asia, everything is cute. So this was no surprise.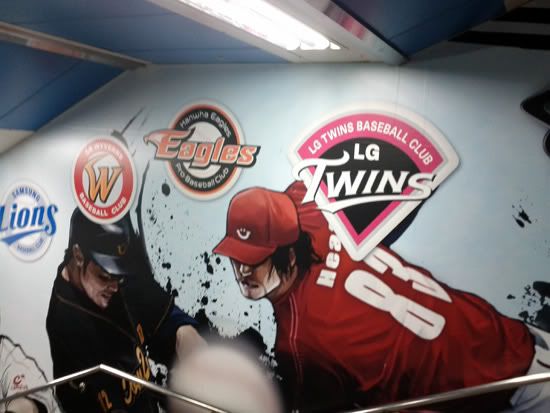 However, I found it fascinating that the teams are not so much differentiated by city or region, but by the corporation that owns it. For example, the Tigers are owned by Kia, which is known in America as a car manufacturer. Samsung owns the Lions. LG owns the Twins. The list goes on and on. I guess Japan does the same thing.
The stadiums let you bring bags inside without first checking its contents. You can also bring your own drinks and food from outside. Lastly, there's a small price difference between food that's sold inside the stadium and food that's sold outside. However, the difference is very small. It's not like in the U.S. where a cup of beer suddenly doubles in price because you've passed a turnstile.
Surprisingly, the baseball fans in Seoul (despite being loud) are orderly and actually stay until the very end of the game. That is, they don't leave during the 7th inning to avoid traffic. Even if their team is being badly beaten, they stay until the bottom of the 9th to cheer on their team. That's dedication. I guess if everybody left early, it would be like admitting defeat. Koreans don't like to lose.
Lastly, the fans are incredibly well-coordinated in their chants and cheers. There must have been over 25 different cheers, and every fan knew how to recite and conduct hand gestures perfectly. What was most incredible was that the fans sustained the cheer throughout the play. Honestly, Korean baseball fans put American baseball fans to shame. This may not be a popular thing to say, but American baseball fans can learn a thing or two from the Koreans.
Here are the Bears fans, waving their white noise-bangers.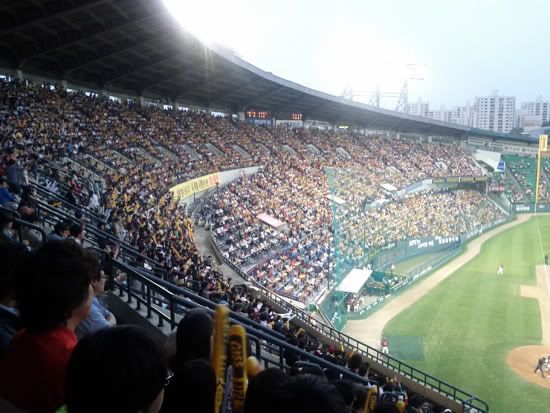 Here are the Tigers fans, waving their yellow noise-bangers.
Finally, here's a video I took of a cheer. Notice how all of the Tigers fans are synchronized in their movements, even while the pitcher throws the ball. Then, after the play ends, the Bears fans (in white) respond with a cheer of their own.
Overall, it was an amazing experience. When I heard I was going to come to Korea, I had no idea I would end up at a baseball game. But I'm certainly glad I made the trip. Of course, I ended up eating chicken and beer and even participated in some of the chants. Most of the songs were popular American songs and chats with Korean lyrics. So I just sang the original version.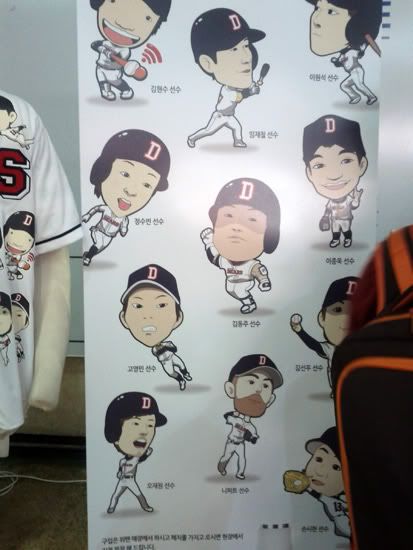 I don't think American baseball will ever be the same for me again.