We landed at Caticlan Airport on Panay Island. After retrieving our bags from the carousel, we waited by the curb for our shuttle. "Don't worry," the shuttle driver told us. "It's a short ride."
Sure enough, we arrived at our destination in 5 minutes. The shuttle dropped us off at a boat terminal. From there, we waited to take the ferry to Boracay. However, the boatmen were still getting ready. So we had roughly 30 minutes to kill.
I walked around and snapped some pictures. After a few minutes of walking, I found myself back at Caticlan Airport. Apparently, the boat terminal is one block away from the airport. What the hell was the point of that shuttle ride!?
This is a shot from the airport curbside. The guys you see here are mostly greeters.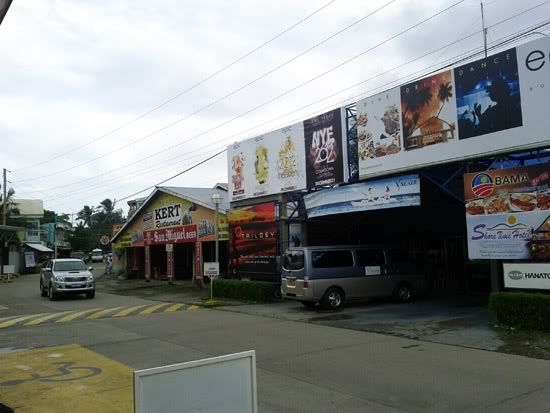 Here's a line of advertisements for various businesses and brands… including an Obama-themed restaurant.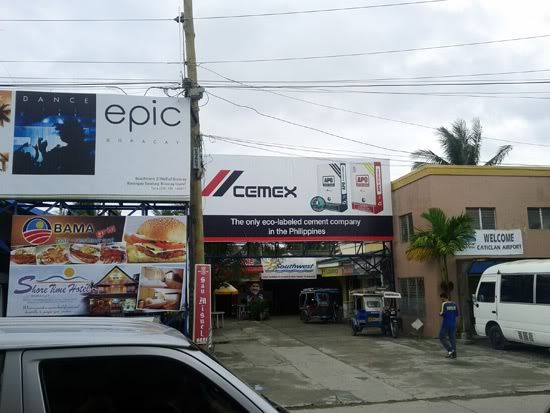 Here are some more billboards.
Another shot from the curbside.
This is a shot I took after walking around the tiny town of Caticlan. You can see the airport terminal in the distance. Basically, the street loops around so that you always end up back at the airport.
A little motorcycle taxi. It actually seats up to 6 people.
Here's the inside of a store. The owner tried to fleece us because we looked like gullible tourists. Jerry attempted to negotiate. I think he would have been successful if the rest of us hadn't been standing around looking clueless.
The My-My Store in the distance sells delicious dried mangoes.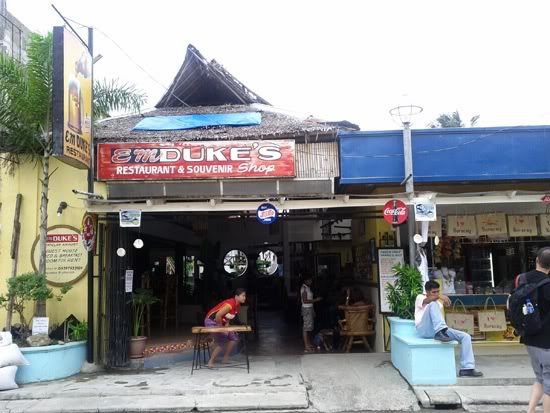 Another quaint little shop in Caticlan.
Chris explores the local restaurant/bar.
Eventually, the ferry came. Here's the group walking back to the port.
Here are some ferries. We ended up taking the one on the left. Upon boarding, the boatmen gave us bottles of cold water and cold towels to wipe our sweat. I love these guys already!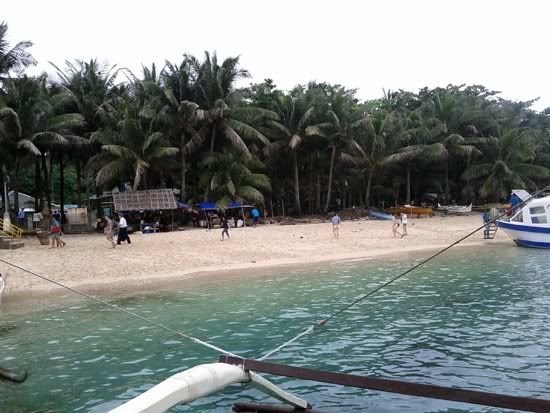 Here's a shot of the main Boracay island I took from the ferry before I disembarked.