Video game stock photos are simultaneously hilarious and frustrating. They're hilarious because the supposed "players" look like pod people. But they're also frustrating because the message being conveyed is so unrepresentative of actual gaming.
I get that the point of ads is not to recreate the gaming experience with accuracy, but to suggest that playing games will leave you happy and fulfilled. But honestly, when was the last time you invited three attractive friends from your multi-ethnic cadre to play Wii in your expensive, IKEA-furnished penthouse?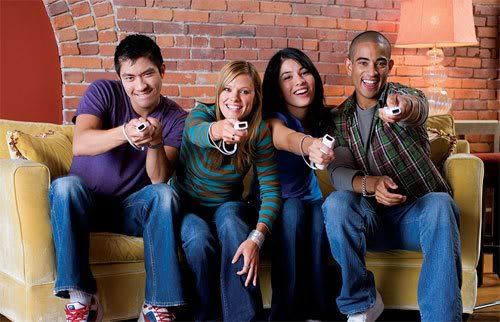 The Asian guy just farted. The black dude is trying to flip through some channels because Glee is on. The blonde is trying really hard to force a grin. (Check out the bulging vein on her forehead.) Finally, the pretty brunette has apparently been mangled by Photoshop. Either that or she's a hobbit.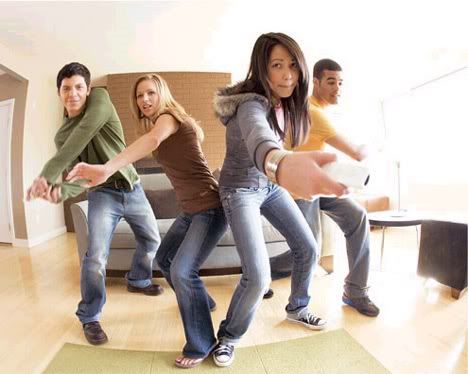 This picture is even sillier. Once again, we have an IKEA furnished apartment with a bunch of non-threatening 20-somethings. The guy on the left is obviously playing some kind of tennis or fencing game. The blonde girl appears to be skateboarding. I didn't know there were any skateboarding tennis games for Wii. I especially love the knowing look that the Asian girl gives the camera. It's like she just wants her money so she can put this whole episode behind her. Thank you, Jim from The Office.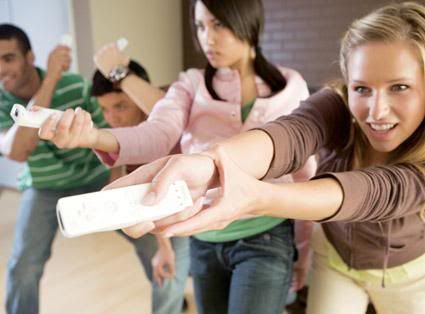 We are totally not dorks. Trust us. To prove it, here are two beautiful women.
This picture is precious because of the man's impish smirk and the random painting in the background. The girl appears to be playing a game where she's inserting her ATM card into a machine. The man is about to beat her with a baseball bat and steal her wallet.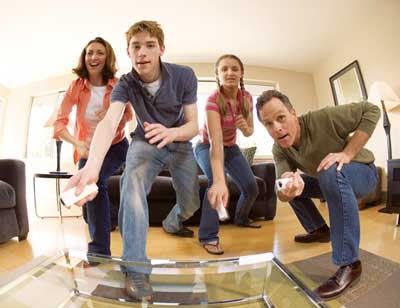 Dad: Hey kids. I don't think the TV is on.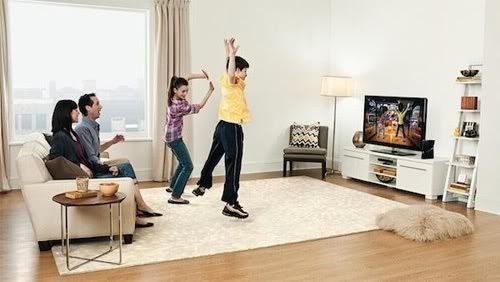 Are you ready to play Microsoft's Kinect in your impossibly pristine penthouse apartment while sitting on modern minimalist furniture? Also, I love that these parents have nothing better to do than dress in business casual attire and sit on a couch. Finally, why is the lamp on? You have natural sunlight coming through your giant window!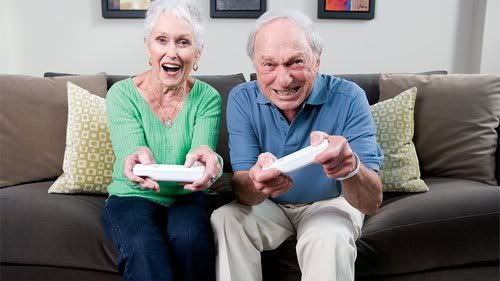 If the goal of this image is to demonstrate the Wii's appeal to all ages, it's probably not a good idea to make grandpa look like he's about to have a heart attack.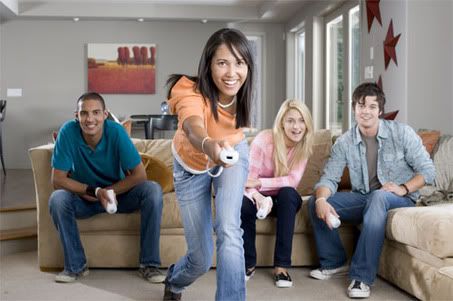 More pretty pretentious people playing the Wii.
Hey… any single ladies looking to play some Call of Duty and get totally pwned?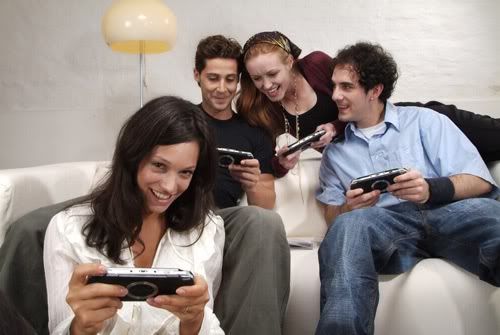 I think the lesson here is that humans and vampires are united by their mutual love for the Sony PSP. This is especially true when one of the vampires was once a crazy gypsy chick.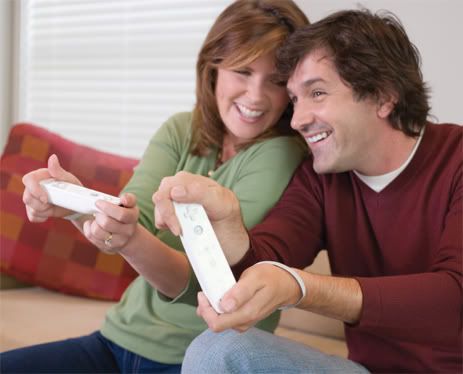 Playing the Wii will save your marriage. Trust us. *snuggle snuggle snuggle*
Ugh… that zebra print.